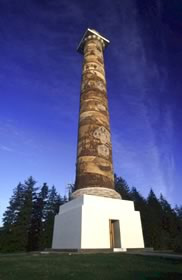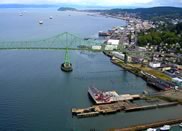 FUN FACTS


Coffee Houses

Astoria Coffee House Bistro visit website 243 11th St. 503-325-1787

A popular trend setting coffee house with; free WI-FI, handcrafted coffee, homemade pastries, panini sandwiches, seasonal salads, daily soup special, comfort food, local organic beer & wine, NY Times & assorted newspapers / weekly events / music on the weekends.

In the tradition of the coffee girls who served the cannery workers at the Bumble Bee Cannery, Coffee Girl serves coffee, fresh baked scones, muffins, bagels and bagel sandwiches, cereals, soups, and fruit smoothies. Located at the end of Pier 39 you can drink your coffee while you fish and watch the ships go by.


Columbia River Coffee Roaster/Three Cups Coffee House visit website 279 W Marine Dr. 503-325-2755

Tim and Nancy Hurd have been roasting coffee since 1992. Located in the heart of Astoria's Union Town. We invited you to explore our web site for our latest roast and specialty items.

The retail section in the front of the building is Three Cups Coffee House, run by Carly and TJ Lackner and Leah Cristaldi. This clean, well-lighted place for coffee (and more) affords a clear view of ship traffic on the Columbia River and, inside, a clear view of the roasting and packing floor, with our offices in the upper mezzanine. Three Cups is open seven days.

If you come by, you can enjoy a cup of freshly roasted and brewed coffee or espresso, bite into a fresh scone, grilled panini, salads, quiche, and pies from our basement bakery. Here is a great place for just about everything: Coffee, Art, Readers Theater, classes, meetings, car washes, and on and on. You can also grab some beans to take with you.



A long-standing Astoria coffee shop is located next to the Liberty Theater serves a good coffee brew with pastry, scones, & bagels for breakfast. Bagel sandwiches, wraps, soups and salads for lunch.

Street 14 Coffee is the place to go for amazing coffee and delicious food here in Astoria, OR. Offering a wide selection of food and beverages that will surely help fill up your appetite and satisfy your coffee craving. The menu includes, box lunches, espresso, breakfast, pastrie, soups, panini, salads, italian sodas, smoothies, beer and wine, and free Wi-Fi.. Featuring open mic night, every Saturday night.